Studio 404~
404 Geyser Rd.
Saratoga Springs, New York
Welcome to Studio 404!
We are an innovative barbershop and men's hair salon in Saratoga Springs providing professional services to make you look and feel your best.
Men's Services
Traditional Gentlemen's Cuts
Boys' Cuts
Fades
Tapers
Lineups~Edgeups
Sideburns
Graphic Designs
Military Cuts
Are you sick and tired of having to settle for a crappy haircut?
Are you sick and tired of going to a salon full of chatty women?
Are you sick and tired of trying to find a place to park at the mall?
Are you sick and tired of dealing with arrogant stylists?
Then Studio 404 is the right place for you!
Studio 404 is an innovative salon that provides a relaxed grooming experience for men and delivers exceptional hair cuts and hair coloring for men in a contemporary comfortable masculine environment.
Our new school styling and old school detailing gives you more than just another haircut.
We want you to have an enjoyable and relaxed experience. Studio 404 is a clean and professional salon that has built a strong client base through it's commitment to quality service and great value. There are no shortcuts to a good haircut.
We most definitely do military cuts. Flattops, high and tights, regulation cuts, and 'fades' are no problem for us. We'll give you a precision cut you'll be proud to wear. If your are an active-duty soldier, police officer, or fireman, we're proud to offer you a discount. It is the VERY least we can do for those who risk their lives to protect us and keep us free!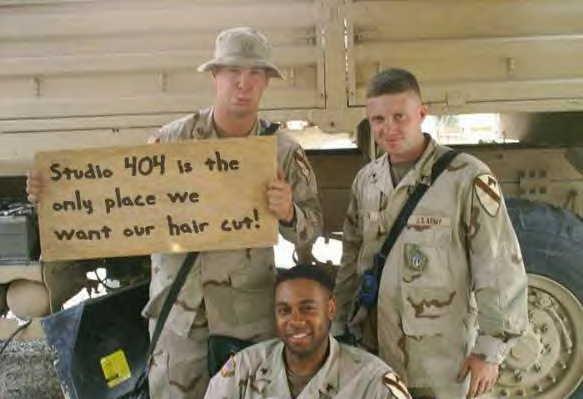 Most of our clients are from Saratoga Springs and Ballston Spa but because we specialize in men's haircuts, we have clients that drive from Glens Falls and Albany just to get a haircut here. At Studio 404, there's no nonsense. There's no drama. There's no attitude!
Prices

Men's haircuts
$16
Men's edge-up
$8
Military cuts
$12
Men's color
$36
Men's highlights
$54
Razor shave
$20
Shave and a haircut
$35
10 reasons to get your haircut at Studio 404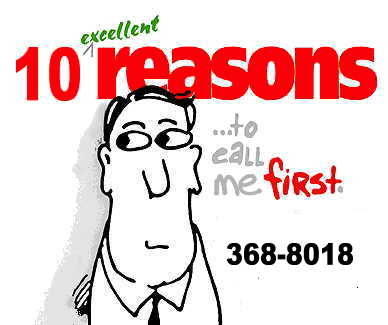 1) We know how to cut men's hair. If you're like some men, you're probably going to some unisex chain salon. Most of the time, you will walk out of these places with a bad haircut. Sometimes, your haircut could look decent for the first week or so, but then it could grow out looking really bad. The problem is that many of the people who work at salons are not trained to cut men's hair. There are a lot of beauty salons in Saratoga Springs. We are different. The difference between a beauty shop and our shop is the difference between a bad looking haircut and a great one.
2) We are trained to cut with clippers. Clippers are the main tool in cutting a man's hair. Most stylists are trained to use scissors. Their training is also geared towards catering to women's hair. They become experts in up-do's and perms. These are things a man has no need for. That's why when you ask the cute stylist at a chain salon to use the number 2 on the clippers, you walk away with a bad haircut. She's probably not that experienced in using them. At Studio 404, we use the clippers everyday.
3) Studio 404 is a great place to talk with other men. We are like a barber shop because you can talk to other men. At the chain salons, you will hardly ever talk to the woman who cuts your hair. The women who cut your hair usually end up chatting it with the other women in the salon, while you will sit there awkwardly. At Studio 404, you can feel at ease to say what's on your mind. This is not a frilly-girly beauty salon. There could be conversation about politics, cars, sports, and family and business. Guys can comment on current events. Everyone is involved: the staff, the customers getting their haircut, and the customers waiting to get their haircut. Adding to the enjoyment is that a variety of men take part in the conversation; young, old, and middle-aged all join in. So, if you want to be part of the conversation, head over to Studio 404.
4) It's a great activity to do with your father or your son. Men need traditions that can help bond them together. Visiting our shop with your father or son is a great tradition to begin in your family. This is a great way to bond with the men in your life! Ladies, send your husband and son here. Your son will have great memories of the time they spent together just like in the old days when a barber shop was a place for men to spend some great time together.
5) Every time you visit Studio 404, you may just feel manlier. Maybe it's the combination of the smell of hair tonics and the male atmosphere or maybe it's the Majestic barber shop chairs. But more so, it's the awareness of the tradition practiced in our shop. Just great haircuts and great conversations. When you walk out of our shop with a sharp haircut, you can't help but feel a bit of swagger in your step.
6) We have great parking! You can park right in front of the salon.
7) Our salon is handicap accessible. You can drive a motorized chair into the salon with no problem.
8) We stay open later than other salons in the area. We know you work during the day. We stay open late so that you can get your haircut in the evenings. If you call and make an appointment, we will stay open late just for you.
9) You can get free air at our outside air pump. How many other salons can say that?
10) This ain't your momma's beauty parlor!
...nuff said.
Lately we having been having a lot of people ask us, "Do you cut women's hair?"....
Yes, we can cut women's hair! We have staff who are trained in the techniques used to cut women's hair. Although Zac Lyon specializes in men's haircuts, he can cut and style women's hair. SO, if you're a girly-girl, this might not be the frilly place you're used to but we do outstanding work. If you're a woman who wants a shorter haircut, likes men's conversations, Harley Davidsons, or boxing....you will really like it here and you are certainly welcome here.
So next time you are on Geyser Rd. just stop in and check us out! We are located in the Stewart's Plaza between The Cheshire Horse of Saratoga and Geyser Vacuum. We have great parking right in the front of the shop. You can get into the shop with no parking hassles.
Salon Hours
Call for availability and appointment
587-2542