Salon Hours
Call for availability and appointment
386-8018
To my loyal customers and all my friends,
It is with great pleasure that I write to inform you that effective January 4, 2016, I will be doing business at 418 Geyser Rd. at the Ovation salon. The new location is in the Country Club Plaza less that 1 tenth of a mile from our previous location. Come help me celebrate the big move!
Since I first opened for business on June 1 of 2008, your loyal support has helped my business grow. I have been looking for a new home for the past few months and are happy to inform you I found it. I will continue to offer the same friendly service within the Ovation Salon.
As of December 31, 2015, I will not be operating in my previous location. If you have any questions about the new location or our services, please call me at 368-8018 and I will fill you in on all the details. I look forward to seeing you at my new location.
Sincerely,
Zac Lyon
Welcome to Studio 404
We are an innovative barbershop and men's hair salon in Saratoga Springs providing professional services to make you look and feel your best.
We do excellent traditional barbershop haircuts, but we can also handle trendy styles and long hair as well. No matter what your style, you'll leave our shop looking better than you ever have. From Gentlemen's cuts to edge-ups and fades, we're the best at cutting men's hair because that's what we like to do. What you will find is the best haircut you've ever had. You won't find that kind of experience at a Super-Great-Fantastic-Clips-Cuts type of place.
Men's Services
Traditional Gentlemen's Cuts
Boys' Cuts
Fades
Tapers
Lineups~Edgeups
Sideburns
Graphic Designs
Military Cuts
Are you sick and tired of having to settle for a crappy haircut?
Are you sick and tired of trying to find a place to park at the mall?
Are you sick and tired of dealing with arrogant stylists?
Then Studio 404 is the right place for you!
Studio 404 is an innovative salon that provides a relaxed grooming experience for men and delivers exceptional hair cuts and hair coloring for men in a contemporary comfortable masculine environment.
Our new school styling and old school detailing gives you more than just another haircut.
Prices

Men's haircuts
$16
Men's edge-up
$8
Military cuts
$12
Men's color
$36
Men's highlights
$54
Razor shave
$20
Shave and a haircut
$35
We want you to have an enjoyable and relaxed experience. Studio 404 is a clean and professional salon that has built a strong client base through it's commitment to quality service and great value. There are no shortcuts to a good haircut.
We most definitely do military cuts. Flattops, high and tights, regulation cuts, and 'fades' are no problem for us. We'll give you a precision cut you'll be proud to wear. If your are an active-duty soldier, police officer, or fireman, we're proud to offer you a discount. It is the VERY least we can do for those who risk their lives to protect us and keep us free!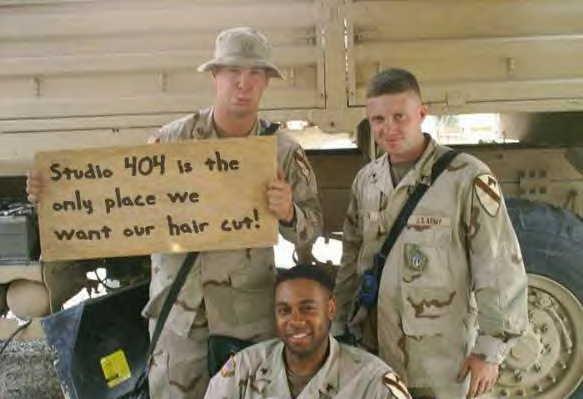 Most of our clients are from Saratoga Springs and Ballston Spa but because we specialize in men's haircuts, we have clients that drive from Glens Falls and Albany just to get a haircut here. At Studio 404, there's no nonsense. There's no drama. There's no attitude!